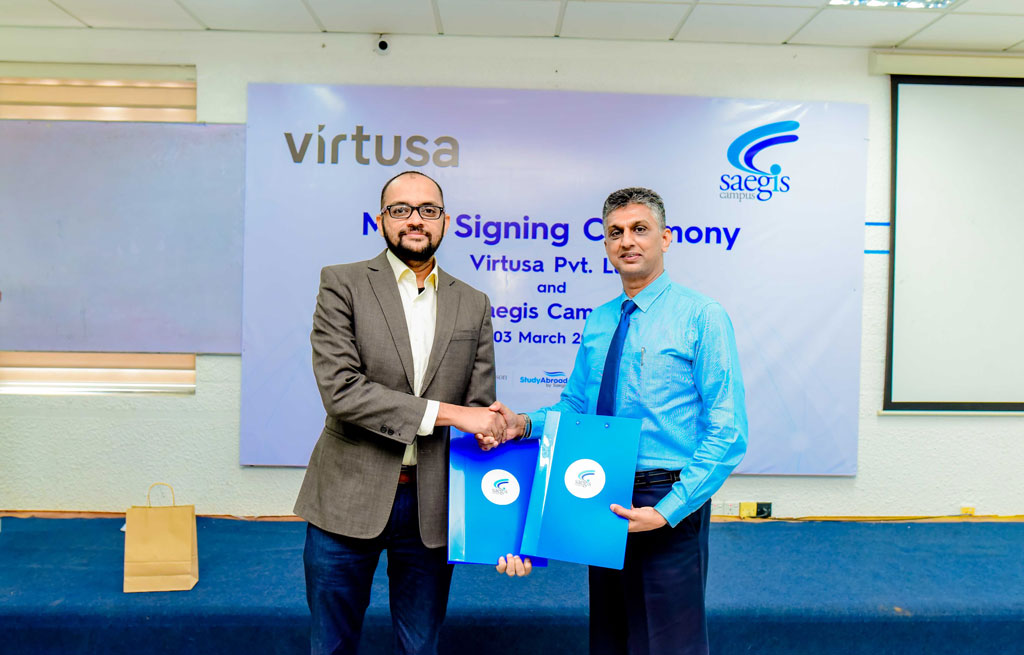 Seen here is Prof Nalaka Jayakody, Vice Chancellor at Saegis Campus exchanging the MoU with Virtusa Senior Director Sampath Thrimavithana
Saegis Campus, one of the leading higher education institutions in the country with its state-of-the-art premises situated at the heart of Colombo, recently signed a Memorandum of Understanding (MoU) with digital innovation engineering leader Virtusa with the view of providing its future-ready graduates lucrative and diverse career opportunities.
The ICT industry in Sri Lanka is experiencing a significant growth, with a recent report by JLL Sri Lanka and ICTA projecting the sector's revenue to be USD 1.8 billion by the end of this year and reaching USD 3 billion by 2024. The sector grew by 7pct in the second quarter of 2021 with over 150,000 employees according to the Sri Lanka IT-BPM Industry report.
This partnership will enable graduates of Saegis Campus to gain employment that are most demanding in today's highly evolving technology-driven world, and help contribute to bridge the skills gap and together, uplift the sector in its efforts to be the one of the most sought-after IT/ITes talent destinations globally.The MoU was signed between Prof Nalaka Jayakody, Vice Chancellor at Saegis Campus and Sampath Thrimavithana, Senior Director at Virtusa.
Saegis Campus offers undergraduate degrees namely BSc (Hons) in Computer Science, BSc (Hons) in Software Engineering, BSc (Hons) in Information Technology, and Bachelor of Information Technology under the Interest Free Student Loan (IFSL) scheme introduced by the Sri Lankan Government. These are recognized by UGC and fully approved by the Ministry of Education.
Students who have successfully completed their Advanced Level Examination between 2018 and 2020 are eligible for these programmes, and also provides one of the best alternatives for those unable to enrol into state universities. Saegis Campus also offers a Higher National Diploma in Computing specialized in Software Engineering by Pearson BTEC.
Students at Saegis Campus are assured of a contemporary learning experience through a lecture panel that comprises some of the renowned academics and professionals in the technology sphere. Its modern facilities such as campus-wide complimentary WiFi, modern IT lab, language lab, library, a relaxing lounge, spacious air-conditioned digital lecture halls, spacious cafeteria, sports and recreational activities, a Leo Club and a Rotaract Club, all enables one to have an ideal stimulating environment that encourages active learning and growth including many personality development programmes.